Gyms & the Pokémon League
During your journeys you will encounter multiple mandatory encounters. There are eight Gyms you have to try to complete, and there is the Pokémon League. For every Gym you complete you receive a badge worth 20 Master Points. The Master Points you receive for progress in the Pokémon League depends on how many of your rival trainers reached the Pokémon League before you.
When you reach a gym, you will be stopped by a Roadblock. This means you can't move past the Gym this turn and you'll have to try and defeat the Gym Leader. Every Gym Leader's Pokémon are depicted on the legend like this: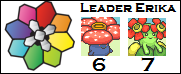 In this example, you will have to defeat Leader Erika's Pokémon using all of your Pokémon. If you don't know how the battles function, read up on battling right above this chapter.
When you reach the Kanto League, you have to wait until every player has reached the League. You can still be challenged to a duel by other players, and you can still use abilities such as Ninetales' ability. You can however not move away from the League under any circumstances. As soon as every trainer has reached the Pokémon League, everyone may heal all of their Pokémon, and try to beat the Elite Four and the Champion!
In the Kanto Pokémon League you will face five tough trainers in a row. After every trainer you will have the chance to revive your Pokémon using Full Restores or other abilities. You receive Master Points for every trainer you defeat in the Pokémon League. How many Master Points you receive can be found on the legend.
In the Johto Pokémon League you will battle your opponents instead of the Elite Four. Only the final winner of the Pokémon League will receive a reward. You can read about the Johto League on the Johto legend.